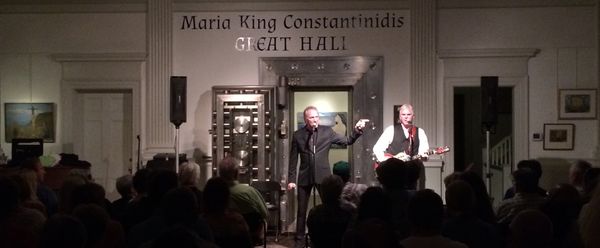 James Montgomery and Bruce Marshall are celebrating 26 years together as a duo in 2020.  They started in 1994 after Bruce Marshall auditioned for the James Montgomery Band and asked James if he was interested in acoustic work as a duo. Their first gig was opening for the Band at the State Theater in Providence, RI and old friend Rick Danko introduced the pair as "the real deal". Although Marshall didn't get the electric gig, he ended up forging an enduring musical and personal relationship with James that continues to flourish. 

M & M took off quickly with several high profile shows including a Hatch Shell appearance in Boston with Peter Frampton, The Band and Blue Man Group. They earned a reputation for their ability to sound like a full band with simple acoustic guitar, Harmonica and 2 lead vocal lineup and their chemistry and friendship is infectious on stage. They became the "go to" act for national openers that needed a big sound without bass or drums. 
 
 M & M opened for BB King on his 70th birthday tour at the Capitol Center in Concord, NH and their performance became their first CD,  "Live at the Capitol Center".

Over their 20 year history they've also shared the stage with John Hiatt, George Thorogood, Marshall Tucker, J. Geils, Southside Johnny, Steven Tyler, Edgar Winger, Rick Derringer, Brad Whitford, and headlined at blues festivals, theaters, concert clubs and resorts throughout the Eastern US.

The duo opened for BB King again at the Hampton Casino Ballroom and this show became their 2nd live CD, Fit for the King". 

James has been featured on 2 CD's by the Bruce Marshall Group, including the local radio hit "3 Chords and the Truth".

James and Bruce co-wrote the song "I Don't Want to Have a Heart" on the ferry home from Marthas Vineyard after a gig there and the track appears on the new James Montgomery Band CD, "Detroit to the Delta".
 
Their live show continues to win over fans everywhere, touching on Delta Blues, R & B and originals from their 2 CD's. They take acoustic guitar, resonator guitar and harmonica and make it sound like a band. 2 lead singers, songwriters joining forces with a chemistry that comes from playing thousands of shows!

Click here for more about James Montgomery

Click here for more about Bruce Marshall
Please click on the images below to download photos for press releases and venue advertisement.
For additional materials or sizes contact: 
admin@brucemarshall.com